Hi! I was wondering if I could join Rping my made up character Cookie!!!!
name- cookie kohashima, (mew cookie)
age-11 to 12
hair color-orange
animal-butterfly (ok so its not an animal)
main color- orange/gold
mark-on her shoulder
other-best friends with mint. Tries to act tough but when theres trouble she panics.
wepon-cookie tamberine
attack-cookie tamberine music play!
pics-
normal cookie-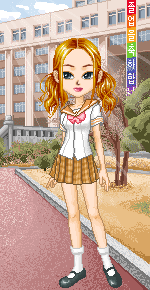 mew cookie-